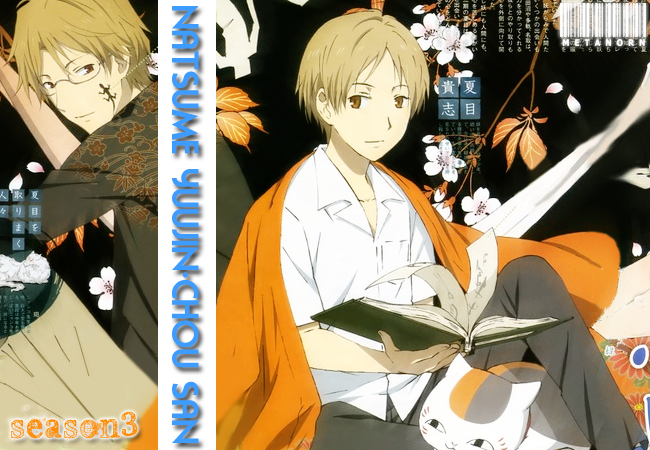 Genres: Drama, Fantasy, Shoujo, Slice of Life, Supernatural
AIR Date: July 04, 2011
WEBSITE
Episodes: UNKNOWN
Producers: Brains Base
Director: Takahiro Omori
Original Creator: Yuki Midorikawa
Seiyuu:
Show ▼
Natsume Yuujinchou San – This is the third season of Natsume Yuujinchou, which will continue with the everyday adventures of Natsume Takashi, a boy who has the ability to see spirits since he was young, and his bodyguard, Madara, nicknamed Nyanko-sensei. Takashi is on a journey to return names written in the Book of Friends, which he inherited from his grandmother Reiko. Thoughout these adventures, he meets various spirits and demons, assists them, and engages in life threating situations, all with the sole purpose of freeing them from their contracts.

Trailer: N/A
| | |
| --- | --- |
| Overcooled: | I downloaded season 1 and 2…in spanish. Well, guess I'd better try again because I WANT TO WATCH THIS! |
| Hato-kun: | Bleh. Ain't seen the other two. Apparently it's decent. |
| Zabobinator: | I REALLY NEED TO WATCH THE FIRST AND SECOND SEASONS!!! |
| Foshizzel: | Yep another series I am behind on! Looks interesting I know Kyo is excited to see it. |
| anaaga: | YEESSS!!! THIRD SEASON YYYEEEEEEES!!!! |
| Ness: | Haven't seen the first two seasons yet, so I have to pass. |
| Hoshi: | Haven't seen the other seasons yet…*ducks from all the sudden enthusiasm* |
| Hime: | One of my favorite animes of all time. In one word, amazing. Nothing can stop me watching this. |
| Jrow: | I have 2 people that will look down upon me for not watching seasons 1 & 2 to watch this. Will put those first couple seasons on my "To Watch" list. |
| Karakuri: | May or may not watch… if I ever finish season 2. |
| Sassy: | Haven't seen this. |
| Kyokai: | Fuck yeah! The only title that Brains Base actually makes season of… at least till now. I didn't believe my eyes when I read about this but it's going to be so surreal! Finally getting another season and more Natsume & Nyanko-sensei goodness. Woo, sign me up, honey, nyaa~ |
Possibly Blogging
[

Kyokai

] [

anaaga

] [

Hime

]
———————————————————————————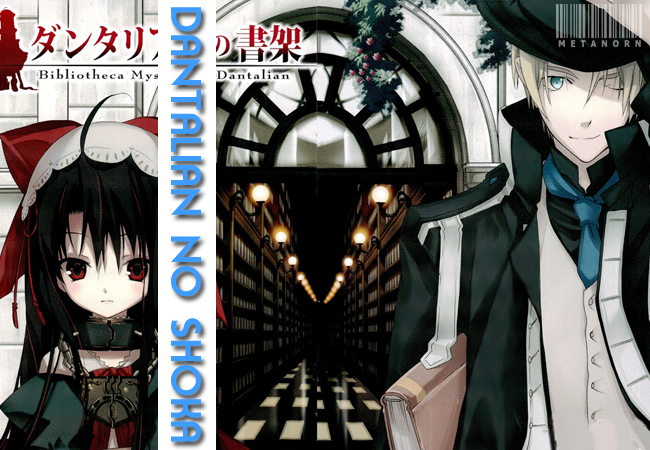 Genres: Fantasy
AIR Date: July 15, 2011
WEBSITE
Episodes: UNKNOWN
Producers: GAINAX
Director: Yutaka Uemura
Original Creator: Gakuto Mikumo (Novel)
Seiyuu:
Show ▼
Dantalian no Shoka – Hugh Anthony Disward inherits an old mansion and a personal library from his grandfather. In the basement of the mansion, he meets a mysterious girl Dalian. She is a Dantalian and a gateway to "Dantalian's bookshelf", which stores the prohibited books of the demons. "Gensho (Illusory Books)", the prohibited books, endanger the balance of the world but people are fascinated by the taboo. The story revolves around Huey and Dalian as they solve the cases involving Gensho with their ability to access the Dantalian's bookshelf.

Trailer: Show ▼
Overcooled:

I'm a bit skeptical of little lolitas after Gosick, but maybe my faith can be restored? This looks like it has a little more oomph to it as well.
Hato-kun:
FFS, Gosick was fine, okay? Interested because of Gainax. Might give it a watch.
Sassy: Huh, looks kind of interesting.
Zabobinator:
Hmmm…interesting…
Foshizzel:
Ooooh Fantasy and books? Sounds like another version if Index! And Gainax looks great to me.
anaaga:
Why do people hate Gosick? I think it's awesome. But this one looks waaay better than Gosick. And hell yeah my man Ono is here. Will watch!
Ness:
I'm unsure of the story but this looks interesting. I'll check it out.
Hoshi:
Not too interested in fantasy, but hey, demons and books! Might give this a try~
Hime:
Cool designs and HNG Daisuke Ono.
Jrow:
Love the main character design. Hoping for good things from Gainax.
Karakuri:
Sounds interesting enough. I'll give it a chance.
Sassy:
Huh, looks kind of interesting.
Kyokai:
No it's not another Gosick. That was just bad. This looks very cool; not to mention Gainax, OD and Miyuki Sawashiro. SO watching this.
Possibly Blogging
[

Overcooled

] [

Foshizzel

] [

anaaga

] [

Hime

]
———————————————————————————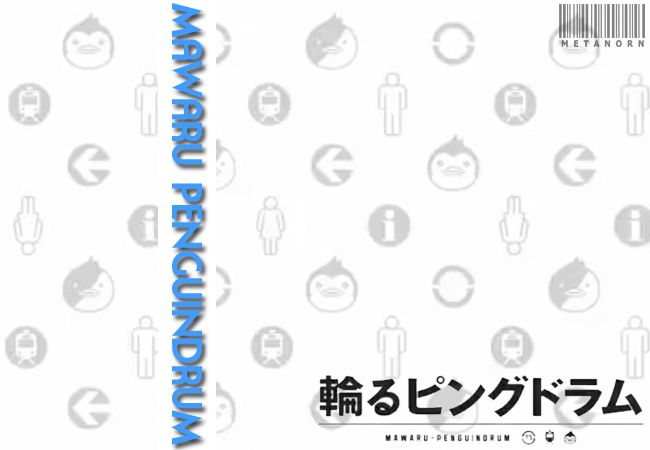 Seiyuu:
Show ▼
Mawaru Penguindrum – New project from the director of Revolutionary Girl Utena, Kunihiko Ikuhara. The story will center around the lives of three siblings: Kanba, Shouma, and Himari Takakura, with Himari as the female main character. The black and white theme might actually hint at yin and yang but nothing can be said for sure. The teaser website has two messages as per ANN: "We share all my love and all your sin." (in white), while on reload, another message appears in black: "I will inform those of you who won't amount to anything."

Trailer: Show ▼
| | |
| --- | --- |
| Overcooled: | If these three siblings are penguins, I'm watching the HELL out of this. |
| Hato-kun: | Pingu. That is all. |
| Zabobinator: | Penguins!? Yes please! |
| Foshizzel: | Three siblings? No thanks sounds rather boring… |
| anaaga: | No incest? Boohooo. |
| Ness: | Not enough info! But that's so like the creators of Utena. I'll check it out. |
| Hoshi: | I have no idea what to think… |
| Hime: | Don't really know enough about this one… |
| Jrow: | Hope my penguin senpais don't push me in to test the waters of this series before diving in. |
| Karakuri: | Penguins? What? |
| Sassy:. | Eh, I guess maybe? Hard to say right now |
| Kyokai: | Ikuhara's brainchild? I will say it again. Definitely checking this out. Intriguing. And now that we know it's Brains Base, this should be more than interesting. |
Possibly Blogging
[

Kyokai

] [

Overcooled

] [

Zabobinator

]
———————————————————————————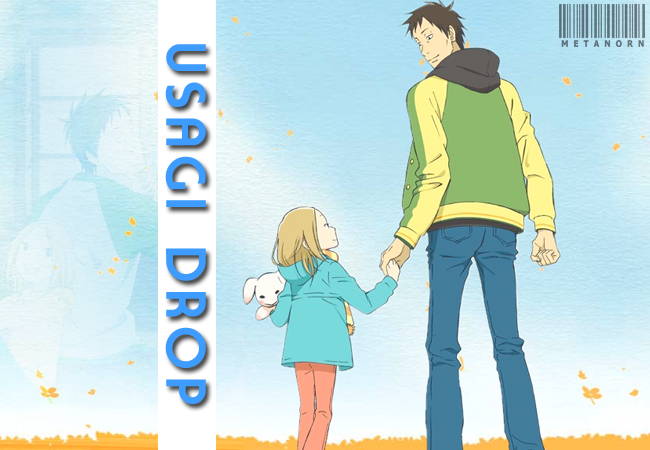 Seiyuu:
Show ▼
Usagi Drop – Going home for his grandfather's funeral, thirty-year-old bachelor Daikichi is floored to discover that the oldman had an illegitimate child with a younger lover! The rest of his family is equally shocked and embarrassed by this surprise development, and not one of them wants anything to do with the silent little girl, Rin. In a fit of angry spontaneity, Daikichi decides to take her in himself. But will living with this overgrown teenager of a man help Rin come out of her shell? And hang on, won't this turn of events spell doom for Daikichi's love life?!

Trailer: Show ▼
| | |
| --- | --- |
| Overcooled: | Nooo, I don't like mushy shows! |
| Hato-kun: | Will be watching this for sure. Probably one of the ones I'm most excited about. |
| Zabobinator: | There is a fine line between sweet and sappy. This is venturing into sappy territory. |
| Foshizzel: | Production I.G. should have some high quality animation might be worth a shot. |
| anaaga: | Ew, little kids. EEEEEEEWWWWW |
| Ness: | Reminds me of a manga I read, almost similar. I might check this out much later on or read the manga. |
| Hoshi: | I've been hearing that this a very decent manga, but haven't necessarily read it yet. I most likely will watch this~ |
| Hime: | Not sure if want… |
| Jrow: | I like some Josei series (H&C, Paradise Kiss), so with I.G. at the helm, I'll give Bunny Drop a shot. Premise seems a bit intriguing. |
| Karakuri: | Manga bored me. We'll see |
| Sassy: | I'm 90% positive that I read this manga before, but I can't remember anything about it. Might look into it again. |
| Kyokai: | I'm a sucker for such stories and I watch almost all Production I.G shows. Also that, "Oji-san te yuu na!" was hilarious. I like cute emotional stories and to see the close-off chibi Rin grow up and coming out of her shell is going to be interesting |
Possibly Blogging
[

Kyokai

]
———————————————————————————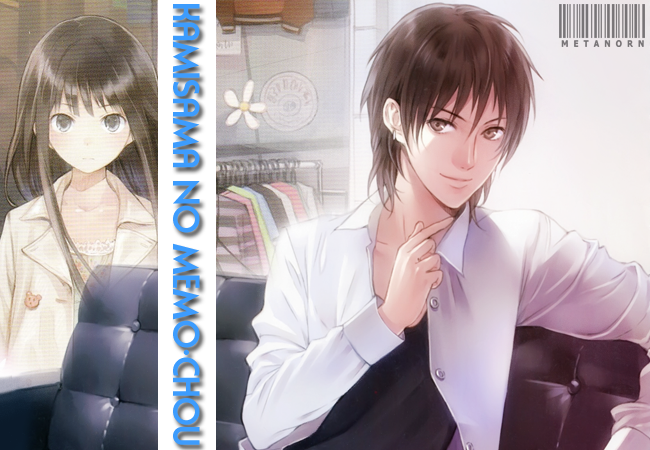 Seiyuu:
Show ▼
Kamisama no Memo-chou – Fujishima Narumi is a plain high school boy, who has been isolated in the class. His classmate Shinozaki Ayaka invites Narumi to the gardening club and introduces a hikikomori detective Alice to him. Alice hires Narumi as an assistant to solve mysterious cases involving an illegal drug "Angel Fix". But the drug entraps Ayaka into danger.

Trailer: Show ▼
| | |
| --- | --- |
| Overcooled: | I'm just not the type who enjoys mysteries. Not my cup of tea. |
| Hato-kun: | Might watch the first few episodes. |
| Zabobinator: | This seems alright. J.C. Staff comes out with some decent stuff. Might check it out. |
| Foshizzel: | Another J.C. Staff show! Sounds interesting will have to at least watch the first few episodes |
| anaaga: | Meh. But it's J.C. Staff, so will give it a try. |
| Ness: | I like mysteries but not this kind. Pass. |
| Hoshi: | Not necessarily getting the plot of the show…but it seems decent. |
| Hime: | Will give it a chance. |
| Jrow: | Looking at MAL's picture, perhaps JC Staff's "A-Team" will be handling this series; with such nice-looking art, I can only hope. Hoping the mysteries aren't just single-episode situations. |
| Karakuri: | I will be watching this because I like the name Narumi. That is all. |
| Sassy: | The manga is kind of dumb, but maybe it gets better. Last time I was excited about a mystery, Gosick happened, but hey, may as well give this one a shot. |
| Kyokai: | The only NEET thing to do is to watch this. Yes, JC has been pulling a lot of shit shows lately but seems like the light novels were really good and just look at that art and I love Mystery so definitely givin this a try. |
Possibly Blogging
[

Kyokai

] [

Zabobinator

]
———————————————————————————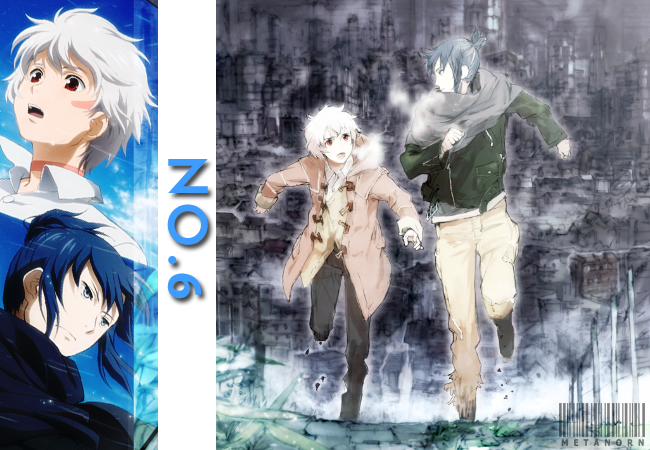 Genres: Sci-Fi
AIR Date: July 7, 2011
WEBSITE
Episodes: UNKNOWN
Producers: BONES
Director: Kenji Nagasaki
Original Creator: Asano Atsuko (Novel)
Seiyuu:
Show ▼
NO.6 – The story takes place in the ideal city "NO.6″ in 2013. Shion was judged as having "highest-ranked intelligence" when he was two years old and was allowed to live in the luxurious area "Cronos". On his twelfth birthday, he met a beautiful boy called "Nezumi," who had escaped from a reformatory. Shion protected him, but the Public Security Bureau deprived Shion of all his privileges and expelled him from Cronos to "Lost Town". Four years after the banishment, a mysterious accident leads Shion to the secret of the city NO.6.

Trailer: Show ▼
| | |
| --- | --- |
| Overcooled: | Original storyline? I'm all ears. Add in the esteemed Brain Base to the equation and you've got me positively drooling over this~ |
| Hato-kun: | I like Bones. But Star Driver was shit. Maybe this will be better. Side note: I love Sci-Fi, so I hope they do this well. |
| Zabobinator: | Dude. This show just oozes awesomeness. The art is beautiful and there's mysterious cities and a possibility corrupt society? I AM SO IN. |
| Foshizzel: | Sci fi and Bones? YES Sounds greaat! |
| anaaga: | This looks great. Will watch. I want to sit in the air too. |
| Ness: | Interesting story and animation. I'm most likely going to check this out. |
| Hoshi: | Ohohoho! Finally something (normal) that actually interests me a lot! Will definitely check out. |
| Hime: | I'll use the last of my hope in this studio to watch this. IT BETTER NOT SUCK. -shakefist- |
| Jrow:. | I like Bones am I'm glad to see them hop off the mecha train it'd been riding recently with Takuto and Joey. I'm pretty anxious to see more stuff for it now |
| Karakuri: | Agreeing with Zab here. Corrupt societies are awesome (in anime). |
| Sassy: | Plot looks pretty interesting. |
| Kyokai: | This has such an awesome mixture that it's hard to miss this bandwagon. Noitamina, BONES, sci-fi and awesome art. Not to mention loads of complexities between two bishie friends. More the merrier, woo~ |
Possibly Blogging
[

Overcooled

] [

Ness

] [

Foshizzel

] [

Zabobinator

]
———————————————————————————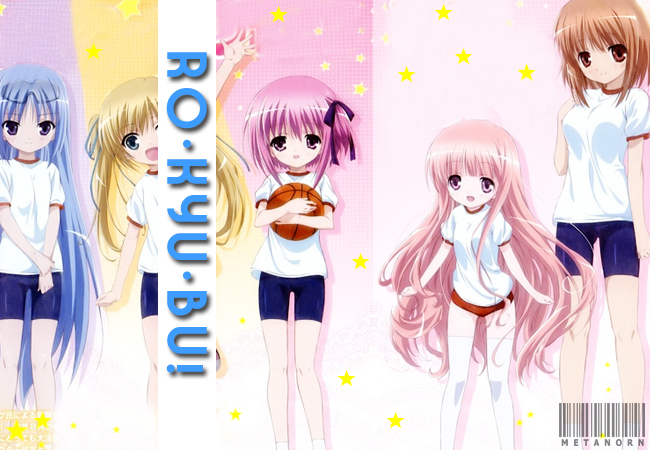 Seiyuu:
Show ▼
Ro-Kyu-Bu! – Hasegawa Subaru is a high school girl who loves basketball. She joins the male basketball team but due to problems with the team captain (a suspected lolicon) she has to resign. With no place to go she ends up coaching the female team of the elementary school. The plot centers around how she will cope with the other girls the various troubles and trials that will come their way.

Trailer: Show ▼
| | |
| --- | --- |
| Overcooled: | Listen, I spent over 5 years of my life playing basketball and it is not moe at all. It is about secretly clawing the life out of whoever has the ball without the referee noticing. If I watch this, I would probably scream at them for not going through the same amount of pain I had to…<_< aaaand end rant. |
| Hato-kun: | "A suspected Lolicon…" Really? Was that needed? Also, Hanakawa, go away. Might watch the first episode. |
| Zabobinator: | Sports…pass. T_T |
| Foshizzel: | Sports and comedy? Strange combo I guess I will check out the first episode, but looks to be another moe show girls doing random things with a club?! |
| anaaga: | It's sport. Not even going to touch it with a ten-foot pole. Sorry, Kana-sama |
| Ness: | Love sports anime but not this kind. I'm more of a ES21, PoT, Major, Whistle!, Hajime no Ippo, Wild Striker and Giant Killing – sports anime watcher. |
| Hoshi: | Just…sounds too light and fluffy to me. Plus, sports? Pass! |
| Hime: | Basketball? Ew. |
| Jrow: | Why is coaching the new hip thing for sports anime? First Giant Killing, then Moshidora and now this? Get the focus off the bench and on the field… or in this case, the hardwood. |
| Karakuri: | ….Sports? No. |
| Sassy: | Eh, probably not. |
| Kyokai: | So, Hato made this moe girl coach basketball to these elementary kids? Tsk tsk tsk. |
Possibly Blogging
[ No-one wants this moe-moe-baskehhh ]
———————————————————————————
We are the deadly team of Metanorn. When together, we usually come up with long, informative reviews and commentary. After all, we take fangirling seriously!
189 Responses to "Summer Anime Catalogue 2011"
Leave a Reply