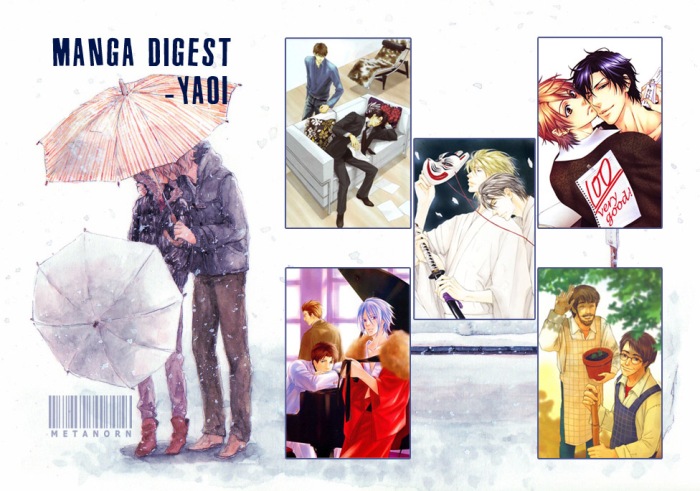 Everything is better when a guy is on another guy
Yeah right, like I could ever forget manga recommendation. Ever wonder why anaaga never recommended any yaoi manga? I've been planning to make this post since one year ago, actually. The problem is, I've read too much yaoi to the point where I don't know which one I should recommend. Not to mention the ones I bought in my Kindle, so it was really hard. But rest assured! I decided to stick with these titles to make the perfect recommendation for everybody, even yaoi n00bs! Who am I to say that, it would be a miracle for non-yaoi peeps to read this post. Anyhow, with the V-day celebrations, I thought to get this done and I hope this post is useful for those who want more than smut and sexy hoes with unbelievable penis shapes in yaoi. And if this works out well, I might recommend more yaoi too. If this works out well.

IMPORTANT NOTE: THIS ARTICLE HAS NOTHING TO DO WITH SCANLATION GROUPS. 

I'm sure everybody knows what YAOI is since it is a common subject touched by Metanorn team because over half of the team are yaoi fans. By the way Karakuri, did you read those yaoi I recommended long time ago? However, for the sake of a proper post, let's start with this question: What is yaoi? It's also known as BL (Boys' Love), a manga genre about romance between two guys. In yaoi, one will see lots of guys sparkling doing sexy stuff with other guys. The sex scenes are ridiculously sticky, the stories are extremely cheesy, and the guys are 200% beautified rather than looking like real guys. It hurts to say this, but I have to. In short, yaoi is what girls fantasize about gay relationships. Girls do realize this, but we just refuse to wake up from our fantasies. Some might know that there are guys who read yaoi (such as chronolynx and Hotspot), but let's face it, the majority of the yaoi readers are girls. Enough of me babbling. Let's move on to the titles, shall we?
Title: Complex

Author: Manda Ringo

Genre: Comedy, Drama, Romance, School Life, Slice of Life, Yaoi

Status: Complete | Volume: 4 | Year: 1996

Publisher: Asahi Shimbunsha, BIBLOS

Summary: This is a story about two friends, from nearly the beginning to almost the end of their lives, who happen to love each other. It also explores the life of a child from one of them. [M-U]

Thoughts: Like the synopsis said, this yaoi is about two childhood friends who developed a relationship into more than just friends until… I can't say more than that because it would be a HUGE spoiler. By the way guys, don't judge a yaoi by its first chapter, and this goes especially for Complex. This thing is just too underrated because of it. I can understand because the first chapter is about nasty pedophilia and shota, so you don't have to read the first chapter if you don't want to. That's what I'm suggesting right now: SKIP THE FIRST CHAPTER. The first chapter is relevant, but it will be re-explained in the later chapters.

This is probably the time where I shed tears more than I did for Hybrid Child (my first yaoi tragedy), and Complex is not even a tragedy. This yaoi is just SO. AMAZING. I've read hundreds of yaoi in my entire life, and this is one of the very few titles I remember even though I first read it three to four years ago (and didn't re-read it until today). It's just memorable in so many ways hasn't left my mind even now. One thing that made me remember this manga until today is the story. It has lots of unexpected twists, which makes the story more dramatic, but surprisingly, those twists are unexpectedly memorable and realistic. Everybody, even heteros and lesbians, can relate to it. The story touches lots of aspects of this world, from friendship, marriage, loyalty, insecurity to misunderstood love. The only thing I regret here is the fact that it's rushed, and the story-telling isn't so great. Not bad, but the pace definitely needed improvement. But god the ending made the uncomfortable pacing worth it. It's sad that people don't read it because of the nasty first chapter or the art. //Keep reading
Title: ZE

Author: Shimizu Yuki

Genre: Comedy, Drama, Fantasy, Mature, Smut, Supernatural, Tragedy, Yaoi

Status: Complete | Volume: 11 | Year: 2004

Publisher: Shinshokan

Summary: In the weird house of Wakeari, Raizou has fallen in love. His object of desire is Kon. Even though Kon is an antisocial pretty boy, he does not laugh at Raizou. As the intense love scene of the tenants continues day after day, Raizou begins to like Kon more and more. At the same time, Kon is doing a secret "job" for clients that come to the house… The Love Destiny that you can't escape from by Yuki Shimizu commences now! [M-U]

Thoughts: I should make a yaoi post about the manga published in Dear+. Most of them are great and never fail to meet my expectations, and ZE is one of them. Familiar with Love Mode? That cheesy yaoi about mafias, and all of them are surprisingly gay? That's one of Shimizu Yuki's works. Just like Love Mode, ZE consists of multiple couples that are related to one another. Imagine Junjou Romantica, but with nicer art, more couples, and darker stories. Oh, and also super-hot sex scenes. There, it's ZE.

Now that I think about it, the reason why I love ZE so much is probably because of its dramatic plots and artwork. It's just like any other yaoi. Seriously, after thinking about it again (big mistake), I don't see the greatness of ZE at all. Why, why do I love this series so much? It's not hard to realize though that its supernatural setting gives it more appeal over other yaoi, which is probably why I love it. The protagonists' family hierarchy and their "jobs" are pretty… Unique. The setting makes the dramatic dark stories somehow more realistic, less dramatic, and of course, darker. The setting allows the readers to say, "It's so dramatic, but since their circumstances is really unique, so it's okay!" In other words, ZE lets the readers to indulge in their pleasure of drama and sappiness without making the readers feel guilty about it. //Keep reading
Title: Arashi no Ato

Author: Hidaka Shoko

Genre: Drama, Slice of Life, Yaoi

Status: Complete | Volume: 1 | Year: 2008

Publisher: Houbunsha

Summary: Sakaki, the president of an interior designing company, is determined to never get serious with anyone – fearing the heartache he feels that it is sure to cause. Much to his discomfort, he realizes that he is beginning to fall in love with his older heterosexual co-worker, Okada. Sakaki is shocked when he finds himself in Okada's home one day, with no recollection of how he got there. At first convinced that he did not act out-of-line at any point, Sakaki feels more and more unsure of this as he notices the changes in Okada's behaviour towards him. Will this storm that's brewing on the horizon ever calm down? [M-U]

Thoughts: Koisuru Boukun is probably the most successful yaoi where the homophobic dude is converted into full time gay. I do admit that it's entertaining, but I prefer Arashi no Ato when it comes to the gay conversion. Somehow it's more relatable, and the straight dude in Arashi no Ato didn't get immediate boner when he was touched by the gay dude.

Most people who read this yaoi would think that they've been trolled. They're right, I feel like that too. While the ending is not something to be sad about, it's just so ambiguous, some reader can't help it but ask gazillion questions about it. Instead of making me feel mushy and sweet just like the usual yaoi, Arashi no Ato makes me feel hollow, as if something's missing there. The relationship between the two characters is lacking in some way, and there's just not enough attraction between the two. //Keep reading 
Title: Namida mo Tooku – Aonibi no Nemuri

Author: Honjou Rie

Genre: Drama, Psychological, Tragedy, Yaoi

Status: Complete | Volume: 1 | Year: 2009

Publisher: Libre Shuppan

Summary: After the failure attempt of eloping with his customer, Shiki (Purple Ghost), a male prostitute, gave up his hope for love… until Ootori-sensei came along. Will Shiki finally find what he had been looking for…!? So what if there's a huge gap on their social standings, what's so wrong about living and loving for the moment? [M-U]

Thoughts: This is one of the only two yaoi tragedy Honjou Rie has ever written. If, somehow, you've read Love Skit and Konna Otoko wa Aisareru, then it's not hard to know that tragedy is just not Honjou Rie's cup of tea. Please, Honjou Rie, stick with smut, drama, or comedy. Or just smut. Smut smut smut smut.

It's hard to say that Namida mo Tooku is better than Ame Nimo Mayuwanai (her other tragedy. It's just one-shot, so do read it and cry). AmeNimo is much more meaningful when it comes to love, and its modern day setting makes it more relatable to the readers. Except the ***** part. Namida no Tooku is just a smutty drama about a prostitute that unfortunately got stuck in this world after World War III (the setting is in 2086, in case some people miss it and people do). Internet is rare [(╯°□°)╯︵ ┻━┻], trains are not used, and living is hard. 2086 sure is a depressing era. The story is a typical cliché that's somehow twisted into a funny tragedy. God, the story sucks, seriously. It's like a bad drama turned into something worse thanks to the failed attempt of trying to make it better. The characters don't have enough depth to make me feel anything for them, especially the sexy uke Shiki. Shiki the Hoe is just… Shiki the Hoe, nothing more. The doctor seme is just horny horny horny and horny to the point where even his sanity is horny.//Keep reading
Title: Katekyo!

Author: Moegi Yuu

Genre: Comedy, Romance, School Life, Yaoi

Status: Ongoing | Volume: 3 | Year: 2008

Publisher: Core Magazine, June (English)

Summary: Rintarou is bothered by the throbbing of his heart caused by his tutor, Kaede for unknown reasons. One day, Rintarou finds out that he's actually in love with Kaede when he was receiving H punishment! But, without knowing Kaede's feelings, Rintarou became anxious and–?! Little sadistic home tutor x natural high school student's after class love. [M-U]

Thoughts: This sounds familiar? Yeah, of course. It's practically almost the same with Junjou Romantica, but the characters are waaayy prettier, and the uke is NOT an annoying tsundere. However, Katekyo! is similar to Junjou Romantica in terms of the plot only. Oh, and the super wealthy seme. Except those two, I don't see it sharing any other similarities with Junjou. I personally find this better than Junjou and be the most applicable title I've recommended so far in real life.

Of course, I didn't think like that when I read the first volume. I thought it was just some random normal yaoi full of hot sex scenes. My thought grew stronger every time I flip a page. The guys are unbelievably beautiful to the point it was pissing me off at times (they're more beautiful than girls!). The seme is a double-face who happens to be a little sadistic, and the uke is a dunce. Everything that happened in book one was just unbelievable! Especially that school sex. I still can't get over how they didn't get caught even though they were noisy. Where is the logic in that!?

Then I read book two and three. The art is still sparkling, and the characters are still meh, but the story gets simpler. Suddenly it's no more about a sadistic teacher and an airhead student. Now it's all about two lovers passing their times loving each other more and more while having insecurities about each other just like how lovers usually are. In-laws are definitely involved, and both of them try to impress each other's family. Their platonic love has been upgraded into something much more serious than some random teacher-student relationship. //Keep reading Show ▼
| | |
| --- | --- |
| | This might be not the best recommendation, but I really do hope that this recommendation can somehow help someone out there who want to read good yaoi. If  more recommendation is needed, feel free to ask me. Who knows, there might be another yaoi post in the future. Maybe it's going to be about shounen-ai? Or bara (LOL)? As long as it's anything involved with manga about guy on guy. Guy on guy is good, but with proper plot, it's better right? Actually, no. It's the opposite. Proper plot is good, but guy on guy makes it better. |
She likes yaoi
26 Responses to "Manga Digest – Yaoi"