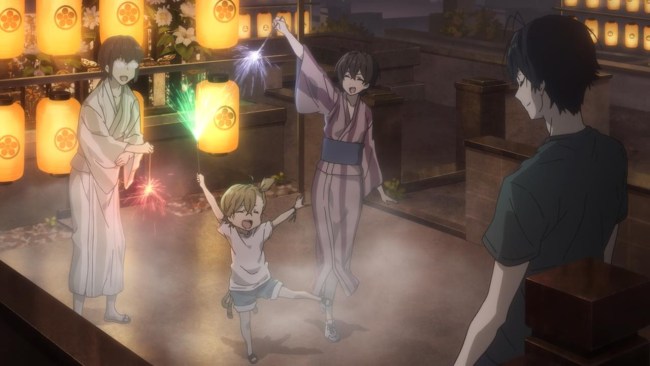 …stay a little longer…

  Wow, Grandma gets a ton of respect from that town. As does her grand daughter…
————————————————————————————————————————————
Happy Birthday Naru!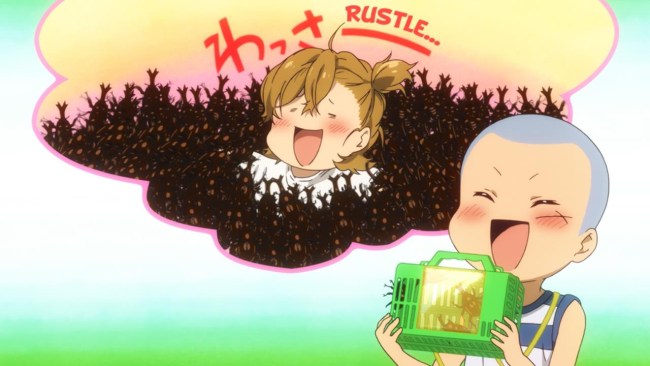 There are bed bugs and there are bedbugs…both are creepy…
One of the greater charms, and a great point in storytelling, is how both of these segments were pretty much all about Naru in one way or another, and yet her actual appearance in both segments was kept to a minimum. I've spoken a time or two about how much a character can cost the narrative. When one has such overwhelming traits they threaten to steal the show; Pratchett's Vetenari, Neil Gaiman's Death, and now Satsuki Oshino's Naru. It would be tempting to have her parade around front and center for 22 minutes and just let that be. But, the story does so well balancing her in and out of the narrative, it cannot help but feel natural.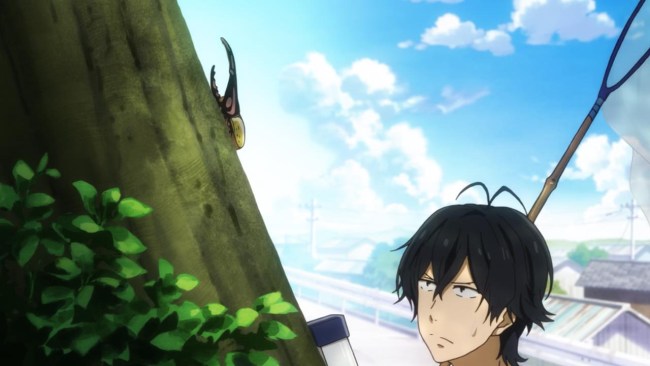 <caption contest>
But with that in mind, there was so much charm in watching Handa become even more ingrained within his new community. Face it, he chipped in 1000 yen for cake, his present was bought and done. That he quickly figured out that bugs would be her thing, shows that she already has grown that much on him. But he's about 15 years too late, as the local boys already knew this, and were way ahead on the curve. And trust me, those boys are in their element. It takes a great deal of patience to catch bugs that size. They really can be creepy enough to give you pause. I've had one of those hercules beetle crawling on my arm and hand when I visited the Insect House at my local zoo; and while not the largest of insects, it's still disconcerting to have one that size in your hand when you know they should be much much smaller. I think Handa was going on his bug hunt with that somewhere on his mind. Unfortunately for him, he is rubbish at bug hunting, but fortunately, the boys aren't and are willing to share.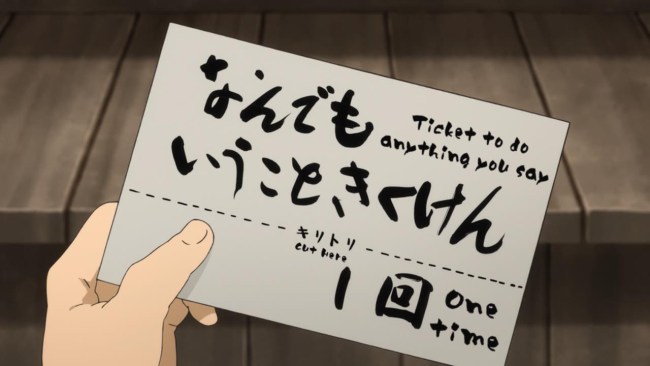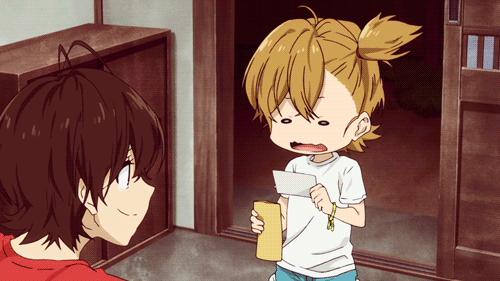 It seems that Sensei does know her better than he thought. For what that is worth….
It doesn't take much to make her happy, does it? Which is one of Naru's charms, of course. The island scamp.
Oban and Onde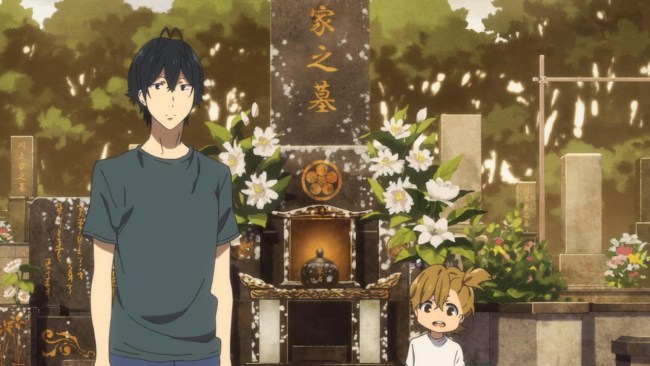 ….zombie out-break when?
If there are two occasions that I would love to visit Japan for, it would be Tanabata, and the Bon Festival, or Oban. I rather like a culture that has a healthy respect for the departed, and the tradition of making it festive. You're never gone nor are you forgotten. I also love, that despite the fireworks, and Miwa's devilish tricks, the reason why they are there is not forgotten. Well, mostly not forgotten, Miwa and her devilish tricks, and Tama just skipping out. But who can blame them when there is fun in the air? And Naru's grandmother is incredibly popular, she must have been a grand old gal.  He is quite taken by how different it all is from the mainland. Including the Onde dance. Now I know they chided him for wanting a translation to the singing, but is that really fair?  But with all of this, Handa thinks of the living, and how Naru will grow up. He even muses where her parents are, a question most of us are probably thinking about, and one that doesn't get an answer here. This question soon gives way to action as the night comes to a close, and the candles are all going out. He lights another one just for her, letting the festivities continue…
Candles

That was a fun and heartwarming episode, something I don't think the show itself will ever been in short supply of. In leaving, I want to talk briefly about Miwa and Tama collectively wondering about how long Sensi will stay on the island. Will he leave once he is forgiven? Will that always be the condition of his stay? I found it fascinating that they cut these thoughts short. Sometimes, if not most, we don't like change. We don't like things to come to a close. Even it if every birthday leads us straight to being celebrated and revered at Oban, we don't want to muse on that to hard. It's true that every end has a beginning right around the corner, but sometimes you don't want to wait, or are scared of it. No wonder Sensei lit another candle…
All around nerd that enjoys just about any anime genre. I love history, politics, public policy, the sciences, literature, arts...pretty much anything can make me geeky...except sports. The only thing I can catch is the dreaded anime cold.
28 Responses to "Barakamon – 08"