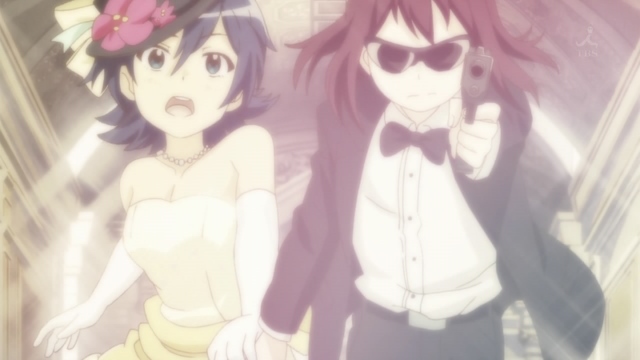 A bodyguard love story featuring Sonohara and Yura? I can ship it~

After the great premiere episode of Stella C3, I liked it so much that I just had to jump into Hoshi's posts about the show. The first episode had great action, and lots of fun with Yura and Rento. So what happens when we get to see Sonora added?

Ah, another week and another episode of airsoft gun battles and pretty high school girls~ Anyway, it seems that after some playful battles among the club members, we're finally going to see how these girls handle themselves with other teams. Will our kick-ass girls disappoint, or will they shine in battle as they always do? First, let's see how the newly introduced leader of the C3 club, Sonohara, deals with the rookie Yura.~
Sono-chan's Perfect Touch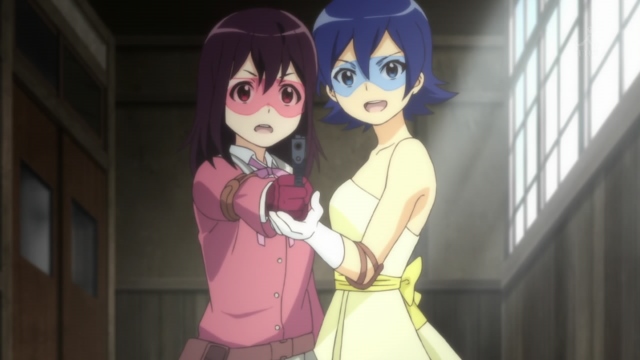 I thought Sono-chan in episode 2 showed a perfect touch for how to deal with Yura. She realized early on that Yura was interested, but that bugging her about joining wouldn't really be the right way to go. So she laid back and took a nap, and ended up on Yura's side, while the rest of the group got impatient. And it worked out, getting Yura more interested in the survival games, and in bonding with this group of girls.
Episode 3 was more of some perfect handling by Sono-chan, although it meant dressing Yura down for giving up. Her attitude of "It's a game, enjoy it to the last" was exactly what Yura wasn't doing, and what caused her to freeze up and run away, with the final humiliation for the team of giving up. And her stern words drove that home. Why give up? The only reason is because you're scared, and that's been Yura's problem the whole time. So will she get over it?
Serious Tournament Action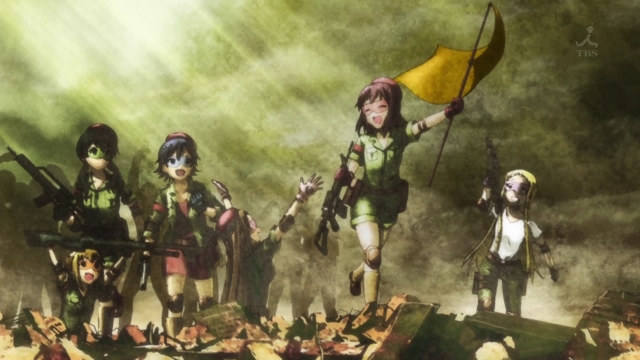 The more these episodes progress, the more we get to see interesting mock battles that include more strategy, as well as more awesome moves from the girls. Episode 2′s battle was definitely a fun one to watch, and it managed to show the strengths and weakness of each member when in battle. Episode 3, however, finally showed us an actual tournament! I've been waiting to see how the girls fair against other clubs in a serious competing environment, and they definitely didn't disappoint as they managed to totally kick ass while maintaining the fun they have when battling. The tournament also finally showed the cliched strong, rival girl club wither their ridiculously skilled leader who's too serious about the battles and is obviously a direct rival of Sonohara. I'm looking forward to more of their battles against the Meisai Girls' club, mainly to see how these girls compare to the C3 girls in terms of strategy and such (I also want a serious Yura comeback where she kicks some serious butt!).
Overall Thoughts

I like how they've shown 3 different types of Survival games so far, with Rambo, VIP, and CTF. There really is a fun variety of game types that can be played, and it really helps to keep the fighting fresh, even if the action quality has fallen off a little bit (not that it's fair to expect them to keep that first episode quality the whole time). But I also like how they're slowly working some personality in, and I just love the art style of the girls, particularly Rento. My favorite moment of the series so far (and it might stay in that spot, it was that good) was the look of pure joy that Rento had when Yura said she'd join the club. Moments like that really drive this show (as well as moments like "Yuranosuke-kun desu ne!").


This week's episode definitely made up for the staleness of episode 2, which wasn't much other than more of Yura's uncertainty, another mock battle, and the introduction of the cool Sonohara. The tournament was what really made episode 3 enjoyable, and it also became a sort of game-changer to the plot, especially concerning Yura. Through her mistakes and lucky moves in the tournament, as well as Sonohara's tough speech to her after her forfeit, Yura learned that she can certainly be just as skilled as the others with not only more practice, but with more confidence in herself to believe that she can do it. It's a lesson that doesn't only effect her team, but  herself as well; and it seems she has learned that lesson through her haircut and sudden assertiveness about her name at the end of episode 3. Speaking of the team, it's nice to see that the members don't get angry or hurt when they lose or are out-smarted in battle, especially when they go against each other at school. They really praise each other on their tactics, stick together, and have fun. The club is so fun and relaxed it has me wishing I could be in a club like this as well. Anyway, after Yura's declaration to take the club more seriously, I'm wondering how better she'll fair in new battles. We'll just have to see next week~