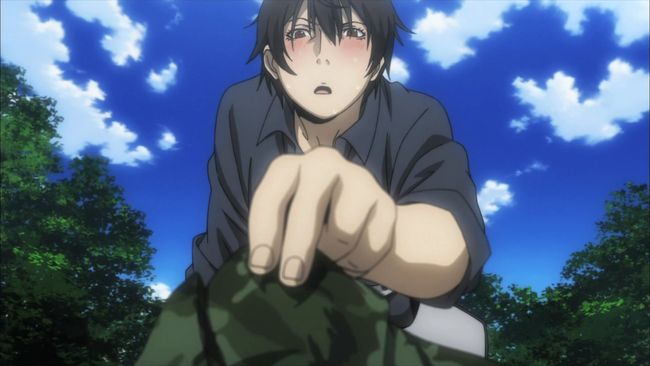 Do I dare trespass into this high-level dungeon?
| | |
| --- | --- |
| | IMPORTANT ANNOUNCEMENT! This will be my last episodic post until the finale. I will do a series summary once Btooom! is done airing that will cover episode 6-12 as well as my thoughts on the series as a whole. It's not because I don't have time, but because I don't have a lot of things to say about Btooom! that are nice. The length and content of this post should be highly indicative of that =A=. This show just doesn't make for posts that are particularly fun to write (or read, I would imagine), so I'm hoping that 7 episodes worth of material will provide me with something of substance to report. It's better than just dropping it, and should turn out better for everyone this way. |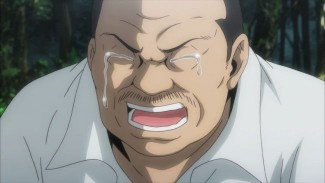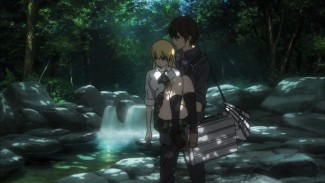 In a nutshell, my response to this episode would be "are you fucking serious?" with an emphasis on fucking serious. We're supposed to believe Ryouta is a good guy who doesn't want to fight in this cut-throat game. We see him feel incredibly touched by Taira bawling his eyes out in gratitude, and even sticking his neck out afterwards to find the killer over the waterfall. He's supposed to be the glorious protagonist we relate to and follow on his survival struggles. However, this "nice" view of Ryouta is constantly pitted against a more "cruel" view that paints him as a disgustingly wretched manchild who can only think of his own interests. Not only is he a beast to his family for no reason other than having the mental maturity of a 5 year old, but he maintains shreds of that scummy mindset on the island. Perhaps being shipped on the island is supposed to be a new start for Ryouta. I almost believed that until he nearly raped Himiko in the most infuriating scene of the entire series to date.
What makes it so bad for Ryouta to do it is that he's still shown as a nice guy. We're supposed to believe he's a hero despite the fact he almost gets his rocks off to an unconscious girl who was clearly abused very recently. His thought process is "Poor thing, she was almost raped!…Well, I guess that guy can't have all the fun, so it's my turn!". If you really try to defend him, you could say people do crazy things on an island when their life is at stake, but Ryouta has since become rather level-headed in the face of danger. He should know better than to even think about it. The fact that Himiko is consistently portrayed as nothing but a ragdoll to be put in compromising situations makes the show hideously sexist. A threshold has been crossed at this point, and Btooom! has lost all of my respect now. I bet you anything the other girl we see in the OP isn't much better than Himiko. Come on, they tried to pull the rape card again with the MAIN CHARACTER instigating it. Not cool.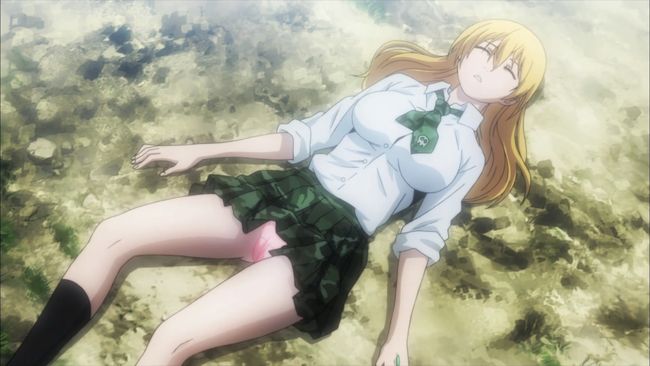 I can barely even focus on the other stuff that happened, but I suppose there is one other scene of importance aside from the issue of Himiko's androphobia. While her fear of men made sense, it was a very simplistic depiction of it that felt like a copy and paste of her feelings in the original rape episode. It just made her look weak.
After Ryouta manages to overcome her barriers (albeit forcefully) and the three of them huddle together for warmth, Himiko starts to explain how they chose people for the island. Himiko was chosen by her own best friends for a grave misunderstanding, Ryouta was chosen by his mom and Taira was chosen by his clients. Even if they return home, it will be impossible to face those who wanted them dead. Either they will still hate you, or feel so much guilt that all further interactions will be horribly awkward. This isn't quite a dead end since you can still live relatively normal life afterwards and make new friends, but it is very discouraging to know that you were specifically chosen for this game. It's depressing. Coming to terms with why they may have been sent here should lead them to become better people, but we'll see how that holds up.
Bonus Cup Noodles: Show ▼

I dared Btooom! to try and turn me off with the double-rape episode featuring Himiko, and I made it out with some complaints. Overall, I still had hope. Unfortunately, I've been bending more and more each week until I just broke into a thousand pieces for episode 5. I've been pretty nice so far but…this episode just made me mad. Everything else is just a blur because that scene with Himiko exposing her pink panties and driving Ryouta wild was so salient to me. It's all I remember! And that's not good! It's a shame that Btooom! remains a lacklustre show with no subtly, little to no strategy in fights, and rampant sexism. The sad part is that it relies on the shock-factor to keep people interested, and that is the only thing it's got going for itself. A cheap trick. *sigh* I'll try to finish this and blog the ending, but I don't imagine things will get much better. If they get worse, I'm going to cry…
Preview: Hours of watching the Discovery Channel as a kid lead me to suspect that those giant lizards are komodo dragons, which are NOT the kind of thing you wanna mess with. This may be the final episode for the old man as he sacrifices himself to save Himiko and Ryouta. Or maybe he just runs off with the chips and the preview voiceover was just a ruse. Who knows! I'll see you guys in 7 weeks or so~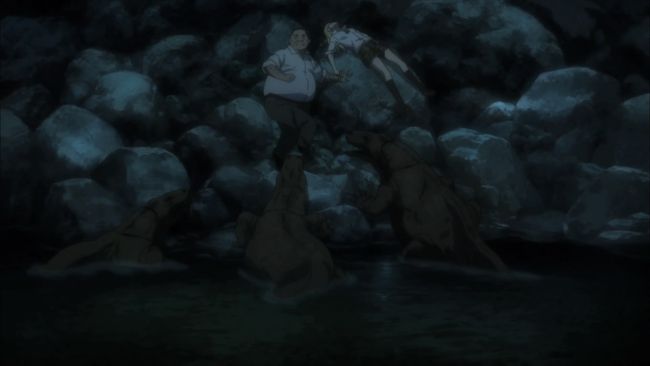 A mad scientist with a third degree black belt in karate. She uses her Neuroscience degree to run experiments on humans and you just might be next. :3
21 Responses to "BTOOOM! – 05"